StarTech 2 Port Flush Mount ExpressCard 54mm SuperSpeed USB 3.0 Card Adapter with UASP Support
Manufacturer Warranty:

2 Years Limited Warranty

Manufacturer Contact Info:

http://www.StarTech.com.au,
Rating:
3.6
stars -
60
reviews
The ECUSB3S254F 2-Port Flush Mount USB 3.0 ExpressCard Adapter lets you add two USB 3.0 ports to your ExpressCard-enabled laptop.
The USB 3.0 card uses a unique design that allows it to sit flush in a standard 54mm laptop ExpressCard slot, creating a seamless add-on that can be left installed even while on the move, without having to worry about impact damage to either the card or the ExpressCard slot.
Enhanced with UASP support (USB Attached SCSI Protocol), this USB 3.0 controller performs up to 70% faster than conventional USB 3.0 when paired with a UASP supported enclosure (Note: UASP requires a compatible operating system). Using a more efficient protocol than the traditional USB BOT (Bulk-Only Transport), UASP technology optimizes transfers by allowing multiple commands to be processed simultaneously, significantly increasing transfer speeds for less wait time on data transfers. See our UASP test results below for further details.
The SuperSpeed USB 3.0 Card supports data transfer rates of up to 5Gbps, and is backward compatible with USB 2.0 (at up to 480Mbps), or USB 1.1/1.0 at up to 1.5/1.2 Mbps respectively - the perfect laptop accessory for users to connect USB devices, both new and old.
Backed by a StarTech.com 2-year warranty and free lifetime technical support.
Improved Performance with UASP
UASP is supported in Windows® 8 and Server 2012. In testing UASP performed with up to a 70% faster read / 40% faster write speed over traditional USB 3.0 at peak performance.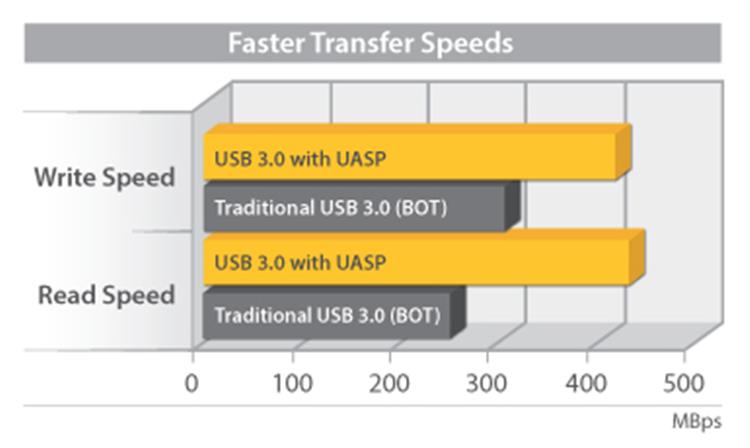 At the same peak in testing, UASP also showed up to an 80% reduction in required processor resources.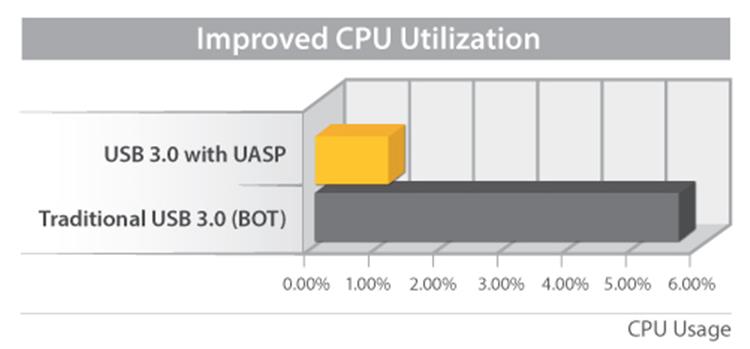 Test results were obtained using an Intel® Ivy Bridge system, StarTech.com add-on USB 3.0 cards, a UASP-enabled StarTech.com enclosure, and a SATA III solid state drive.
Physical Characteristics
Product Length
74 mm [2.9 in]
Product Weight
23.8 g [0.8 oz]
Product Width
54 mm [2.1 in]
Power
Center Tip Polarity
Positive
Output Voltage
5 DC
Plug Type
A
Power Source
Not Included (not required for standard applications)
Software
OS Compatibility
Windows® 10 (32/64), 8 / 8.1 (32/64), 7 (32/64), Vista (32/64), XP (32/64)
Windows Server® 2008 R2, 2003
Special Notes / Requirements
Note
The maximum throughput of this card is limited by the host bus interface. If used with ExpressCard Gen 1.0 enabled computers, the max throughput is 2.5 Gbps. If used with ExpressCard Gen 2.0 enabled computers, the max throughput is 5 Gbps.
System and Cable Requirements
Available ExpressCard/54 slot
What's in the Box
Included in Package
Driver CD
ExpressCard USB 3.0 Card
Instruction Manual
USB to DC Power Adapter Cable
Physical Characteristics
Product Height
5 mm [0.2 in]
Performance
UASP Support
Yes
Type and Rate
USB 3.0 - 5 Gbit/s
Packaging Information
Shipping (Package) Weight
135 g [4.8 oz]
Hardware
Ports
2
Interface
USB 3.0
Chipset ID
Renesas/NEC - µPD720200
Card Type
54mm ExpressCard
Bus Type
ExpressCard
Environmental
Storage Temperature
-65°C to 125°C (-85°F to 257°F)
Operating Temperature
0°C to 85°C (32°F to 185°F)
Connector(s)
External Ports
USB Type-A (9 pin) USB 3.0 Female