Features
K4 has full-size functionality in a compact design with 100 necessary keys. Featuring two premium switch options enabling peak productivity and a great tactile typing experience
WIRELESS AND WIRED MODES
The K4 keyboard works flawlessly in wireless mode and while using Bluetooth for a mess-free desk. For gamers and people who prefer using a wired keyboard, the K4 also has USB Type-C. Enjoy the keyboard in whichever style you like.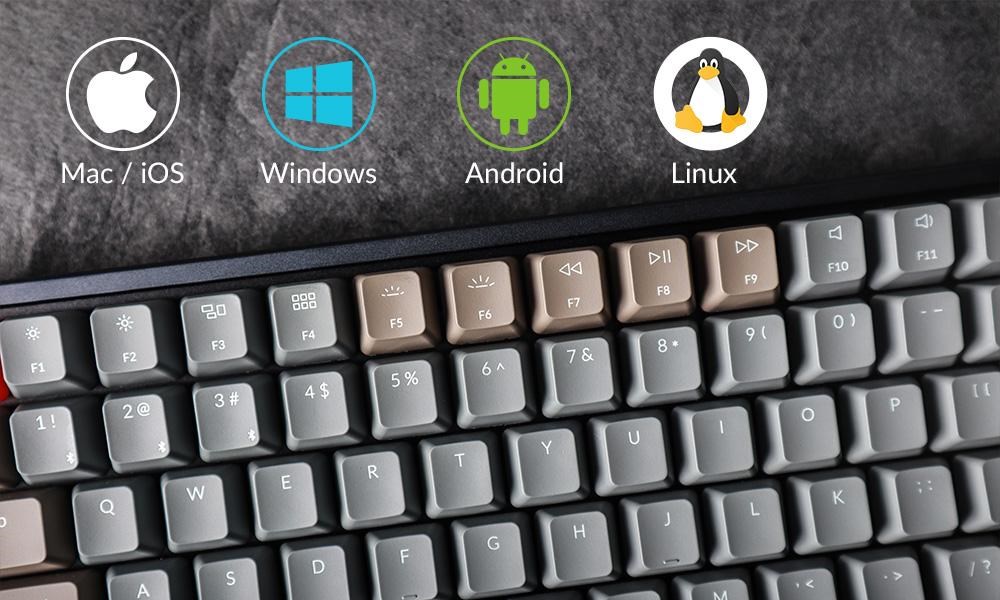 COMPATIBLE WITH ALL DEVICES
K4 is 100% compatible with multiple operating systems. Perfectly suitable for macOS, Windows, iOS, as well as Android. Keychron is amongst the few that provide Mac multimedia keys to you with a user-friendly typing experience. It also comes with an extra set of 3 keycaps that allows you to switch between Mac and Windows OS effortlessly.
UNIQUE AND DELICATE DESIGN
K4 include all essential keys in a compact design for a minimalist desk vibe. The exclusive Pantone series of keycaps differentiates K4 easily from other mechanical keyboards. And it also has a sturdy body and 8.5-degree rubber feet that offer a comfortable and pleasant typing experience.
LARGEST BATTERY
The K4 can last up to 72 hours typing, or up to 9 days of normal use (8 hrs/day) with a 4000 mAh big battery.
15 TYPES OF RGB
K4 is engineered with more than 15 types of RGB backlight options that you can use to play with. A keyboard that is always in sync with your mood to keep you happy and productive. Easily cycle to different backlight schemes using the light bulb key.
---
Specifications
Number of Keys: 100 keys
Switch: Gateron Red, Blue, Brown, Yellow / LK Optical Red, Blue
Number of Multimedia Keys: 15
Main Body Material: ABS/Aircraft-grade aluminium front panel
Keycap Material: ABS
CONNECTIVITY AND POWER
Backlit Types: 18
Backlit: Adjustable 4-level RGB backlit
System: Windows/Android/Mac/iOS
Battery: 4000mAh Rechargeable li-polymer battery
BT Working Time (Single LED): Up to 68 hours (Lab test result may vary by actual use)
BT Working Time(RGB): Up to 72 hours (Lab test result may vary by actual use)
Charging Time: Around 3 hours
Connection: Bluetooth and Type-C cable
Bluetooth version: 3.0
Bluetooth Device Name: Keychron K4
Compatible System: macOS/Windows/
PHYSICAL UNIT
Dimension (D, E, G, H Series): 371 x 124 x 38mm
Weight: About 933g / 32.9oz
Dimension (F, J Series): 376 x 129 x 38mm
Weight: About 770g / 27.1oz
Operating Environment: -10 to 50?